Jackson picks the Flashes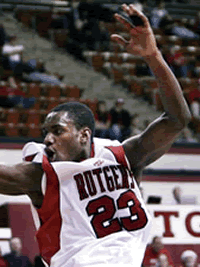 "It was pretty much the atmosphere and obviously all the coaches," Jackson said. "Me and coach Ford have a good relationship and all the players were cool. Nobody was arrogant. They are all there to win."
A weekend visit to Kent sealed Jackson's future.
"I pretty much knew it once I hung with the team and played with them," he said. "They were really positive and determined to win."
Jackson said he feels Kent State is a perfect fit with his ability to shoot the ball and focus on defense.
"I can shoot--it doesn't matter--anywhere on the court," he said. "I'm a real good rebounder and defender and I'm real athletic. I fit in well. You've got to be able to play defense in order to win."
In 32 games as a sophomore at Rutgers during the 2009-10 season Jackson averaged 2.4 points and 1.6 rebounds in 10.9 minutes per game. He played in 17 games as a freshman, but averaged just 0.6 points and 0.6 rebounds per contest.
Once he decided to transfer he considered several other programs including Drexel, Marshall and UNLV. All had extended a scholarship offer but Kent State was the only school Jackson visited.
While the visit was all Jackson needed to make his decision, he first had to sell the idea on his father before making the call to Ford.
"It went pretty well," Jackson said. "My dad asked me a lot of questions about the campus and the coaches and players."
"He was real cool and down to earth," Jackson said of Senderoff. "All the coaches there are good. They are there to push and get the best out of their players."
"He helped a lot," Jackson said. "He was somebody I knew so when I asked questions I knew he gave me his honest answer. That played a huge part. He said they're doing the right things there and the coaches support their players there."
During his transfer year, Jackson said he'll focus on the little things that will allow him to better contribute to the team during his final two seasons at Kent State.
"During my off-year I'll just pretty much be in the gym every day getting stronger and attacking all my weaknesses," he said. "It just feels good knowing I have a new home, a place I can grow as a basketball player and just win. That's my goal."